Seattle photographer Jim Bennett captured a slew of images from the recent SXSW festival in Austin, Texas.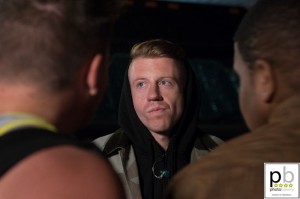 Check out Bennett's images of Seattle rapper Macklemore (who recently went to No. 1 on the Billboard Hot 100 chart) and punk legend Iggy Pop at Antone's, Seattle rocker Reignwolf on Sixth Street, Mike Watt (co-founder of Minutemen, Dos and Firehose) outside Mohawk, The Flaming Lips at The Belmont and Shovels and Rope at the Heartbreaker Banquet. (Click on "open link" for a bigger image of each photo.)
The annual 24/7 music marathon draws hundreds of artists and thousands of music fans to the Texas capitol each March. If some of the artists in the accompanying photos look tired, it's because no one ever gets any sleep.
Read what Time magazine had to say about the festival in its wrapup story here.
Read my recent post about Macklemore and Ryan Lewis when they reached the top of the Billboard Hot 100.
And visit Bennett's photography website here.
— Gene Stout