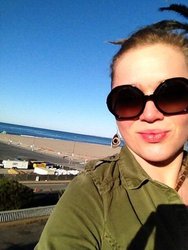 By MIKEL TOOMBS
The late, great rock critic Lester Bangs, portrayed by Phillip Seymour Hoffman in Cameron Crowe's "Almost Famous," once dubbed an LP by '60s-era folkies Brewer & Shipley "Mellow People Smoking Dope in the Country."
Now, while there's no smoking in Crystal Bowersox's "Dead Weight" ("cheap red wine" is mentioned), those are the sort of bearded folks (Ms. Bowersox excluded, of course) who populate the video for the inviting opening track on her fine new album, "All That for This."
This is not the crowd you'd expect an "American Idol" runner-up (from 2010) to hang with, but then most "American Idol" runners-up are not (folk-, country- and soul-)rocker moms who sport dreadlocks (no, she's not changing her name to Crystal Lion) and hail from Portlandia. (She's pictured on the cover of "All That for This," out Tuesday on roots label Shanachie Entertainment, holding a cup of, presumably, Stumptown coffee.)
And they don't get the benefit of a full-bodied production by Los Lobos' Steve Berlin, the former Vashon Islander who also now lives in Portland.
Berlin goes all "Dusty in Memphis" on the life-affirming "Shine" and "Everything Falls Into Place" (and it does). He helps Bowersox, who performs April 7 at downtown Seattle's Triple Door, make "Movin' On" into a soulful strut and "Til the Whiskey's Gone" ("If you don't love me now, then you will by dawn") into a rousing blooze-rocker.
On a CD that's almost entirely composed or co-written by Bowersox, a rare disappointment is the sole cover, of "Here's Where the Story Ends," the twee-core standard by The Sundays.
Bowersox will portray Patsy Cline in the Broadway production of "Always … Patsy Cline" this summer.
Listen of Bowersox's music by visiting her website here.
(EDITOR'S NOTE: Mikel Toombs is a frequent contributor to GeneStout.com. Read his recent post on Buenos Aires' 34 Punaladas here.)