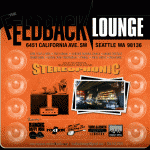 Who needs a Hard Rock Cafe when you've got Feedback?
The Feedback Lounge, the kind of bar any true rock 'n' roll fan will want to call home, officially opens tonight at 6 at 6451 California Ave. S.W. in West Seattle's Morgan Junction.
The new bar and restaurant is operated by Jeff Gilbert, Seattle music critic, author, radio DJ, record producer and collector of guitars and memorabilia. Read my interview with Gilbert in the Seattle Post-Intelligencer last summer.
The bar and restaurant's in-house, programmed music includes rock, blues, R&B, rockabilly, honky-tonk, big band, swing, surf rock, punk, old-school country, jazz and pop — much of it by Northwest artists past and present.
The Feedback Lounge has a bunch of cool features. The Whammy Bar boasts a collection of vintage guitars, some of them quite unusual. The Sunndeck (yes, that's the correct spelling) is a 40-foot-long outdoor seating area for those rain-free Seattle days.
The Rok Box is an 11-foot-tall display case filled with rock and pop memorabilia. Video screens in the Front of House play live concerts and vintage music TV shows, from Shindig! to Hullabaloo. There's also a Tune-O-Matic Library of current and out-of-print music books.
You may want to put off your visit to the bar and restaurant. Tonight's grand opening is going to be wild.