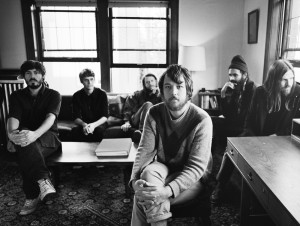 Seattle's Fleet Foxes, which wowed us with its ethereal, self-titled debut album in 2008, will release its second album, "Helplessness Blues," May 3 on the Sub Pop/Bella Union label.
The release of the 12-song album coincides with the band's first North American tour since 2009. European dates will follow.
The tour kicks off April 30 at the Vogue Theatre in Vancouver, B.C., followed by shows May 1 at the Crystal Ballroom in Portland and May 3 at the Moore Theatre in Seattle. The European leg begins May 25 in Berlin, Germany.
A pre-sale for the North American tour begins at 9 a.m. Tuesday, Feb. 1, on the band's Web site, where tour dates are listed.
"Helplessness Blues" was recorded over many months at Avast Recording, Bear Creek Studios, Dreamland Studios and Reciprocal Recording. It was mixed by Phil Ek and co-produced by Ek and Fleet Foxes, featuring Robin Pecknold, Skyler Skjelset, Christian Wargo, Casey Wescott, Josh Tillman and Morgan Henderson.
The album cover was illustrated by Seattle artist Toby Liebowitz and painted by Chris Alderson.
Read more about the band and download the title track on the Sub Pop Web site.