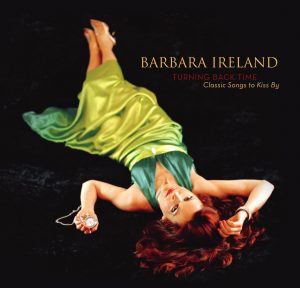 Seattle singer-songwriter Barbara Ireland's new album is a world apart from the glam-punk she once performed as a member of The Fags and other bands.
Ireland's new album, "Turning Back Time: Classic Songs to Kiss By," is a sultry, sumptuous collection of jazz and blues from the 1930s, '40s and '50s. Among the gems: "Black Coffee," "Cry Me a River," "Ain't Misbehavin' " and "Good Morning Heartache," my personal favorite on this disc.
There's also a sassy original, the bluesy, struttin' "Angel in Blue Jeans," which makes you wonder, "Who wrote that?" Well, Ireland did. But it sounds like another classic from the memory bin.
Ireland has a sweet, supple voice that is completely at ease with the material she has chosen for "Classic Songs to Kiss By," which by the way is a perfect subtitle for her affectionate interpretations of songs from the Irving Berlin/ Bobby Troup era.
The CD's breadth of appeal should span generations. Whether you're a 20something with retro tastes or an oldster who's just plain retro, there's a lot to love in this collection of timeless tunes.
"What has stunned me the most have been the emotional responses to the music on this CD: weeping, bursting out in laughter, jumping up to dance, and more than just a few sexy glimmers appearing in people's eyes," Ireland says.
If an album of old-school classics from Ireland comes as a surprise, you haven't seen her resume. Ireland is a jack (make that jill) of all trades when it comes to music and the arts: musician, filmmaker, visual artist, photographer, etc.
At 9, she took up the harp and wrote a book of songs for beginning harpists that is still in use today. Years later, she earned a degree in filmmaking from New York University and went on to become a floor director of live newscasts at KING-TV. For eight years, she was co-owner and president of Filmus Maximus. She has also performed with the Hank Khoir, a Hank Williams tribute band formed by Pearl Jam's Stone Gossard. Read more about Ireland here.
In the spring, Seattle's Film Forum will celebrate her film works with a retrospective to coincide with the release of a DVD of her avant-garde short films and music videos titled "From Dreams to Delirium."
Ireland was recently featured in "A Jazzy Lil' Christmas" show at the Paramount Theatre in December and at the recent Elvis Invitationals at Club Motor.
Backing Ireland on "Turning Back Time" is a distinguished group of local musicians: bassist Keith Lowe (who sings backup vocals and interjects a "meow" on "St. James Infirmary"), pianist and sax player Hans Teuber (also featured on backup vocals on "St. James"), drummer Mike Stone, guitarist Jeff Fielder (who sings backup on "Whatever Lola Wants") and trombonist Steve Moore.
Though the album was released in late December, Ireland finally will celebrate with a party Feb. 11 at FRED Wildlife Refuge, a stylish (and retro) new venue at 127 Boylston Ave. E. Check Ireland's Web site for details.
The album is available through CDBaby and at Sonic Boom Records.
— Gene Stout