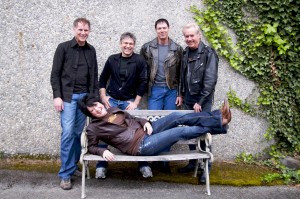 A phalanx of Northwest rock stars, including Alan White of Yes and four former members of Heart, will join a 46-piece orchestra for Synergia Northwest 2010 at 7:30 p.m. Saturday (May 15) at the Temple Theatre in Tacoma.
Proceeds from the event will help provide education, enrichment and performance opportunities for music students who lack financial resources. Read more about it here.
The lineup includes White and former Heart band members Howard Leese, Steve Fossen, Roger Fisher and Michael Derosier, as well as singer Somar Macek, violinist Geoffrey Castle, singer-guitarist Tracy Bonham and the Seahawks' Blue Thunder drum troupe. Host is Marty Riemer of "The Marty Riemer Show."
Leese, Fossen, Fisher and Derosier are performing together for the first time in three decades, with Macek on vocals.
The newly formed Synergia Northwest Orchestra is conducted by Dr. Nikolas Caoile, the director of orchestras at Central Washington University.
The concert honors Native American Beaverchief, also known as Fred Jamison, who was from a long line of "Indian doctoring" people. Read about his collaboration with composer, arranger and producer Mark Nichols and producer Barbara Leischner on the "Big Magic" music project here.
Tickets to the all-ages event are available at Ticketmaster. The Temple Theatre is located at the Landmark Inn Convention Center, 47 Saint Helens Ave., Tacoma.
White, Leese, Fossen and Fisher got together last week to check out the Heart memorabilia at the Seattle Hard Rock Cafe. Read about it here.