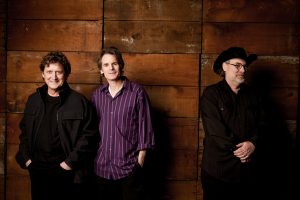 Most local music fans know Eric Tingstad as one half of Grammy-winning, Northwest acoustic duo Tingstad and Rumbel (with Nancy Rumbel).
But last year, Tingstad got together with high school rock buddies (and Northwest rock veterans Carl Funk and Larry Mason) to produce a new album for Funk and Mason. Soon, the duo became a threesome — and then some.
Tingstad describes The Halyards as "an independent, alternative-country, roots-rock, Americana" band.
The trio's new album, "Fortune Smiles" (Cheshire Records), is out this weekend, and Tingstad, Funk and Mason are celebrating with a live performance and CD release party at 7:30 p.m. Sunday (June 6) at the Triple Door. Doors open at 5:30 p.m. All ages are welcome. Tickets are $15 in advance, or $18 at the door. For reservations, call 206-838-4333 or visit the Web site.
The show includes Ben Smith (a drummer for Heart), Garey Shelton (bassist for Tingstad and Rumbel) and Chris Middaugh (steel guitarist for the Sky Boys).
The album features wonderful, Everly Brothers-style harmonies and driving guitars. It's a gem of an album. In the song "Welcome Home," Funk writes, "There's a splendid chaos in this life."
Other songs include "Marley's Lament," "Earthbound," "Lost in Mexico" and a terrific cover of "The Streets of Laredo" — a dozen in all. Copies of the album are available on The Halyards' Web site. (You can also listen to songs on the group's MySpace page.)
Recording sessions included Rumbel (ocarina), Narayan Baltzo (trumpet), Janet Baltzo (Hammond organ), Terry Lauber (pedal steel guitar), Andrew Joslyn (violin), Will Dowd (drums and percussion), Orville Johnson (banjo and Dobro) and Ed Rupprecht (resonator and electric guitar).
Funk and Mason handled acoustic guitars and vocals, while Tingstad played electric, acoustic, lap steel and classic guitars, as well as bass, percussion and backing vocals.
"There are times in life and music when things come together in ways that almost seem magical," the band says on its Web site. "You can't force it. You can't plan it. You can only recognize it once it's put in motion."