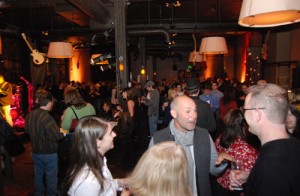 Food and wine pairs naturally, but when you add live music, you've got a "wine experience" of a different order. Especially when one of the musical "cats" is the region's top wine critic.
The third annual Wine Rocks Seattle event is at from 7 to 10 tonight (June 3) at the Seattle Hard Rock Cafe. Tickets are $35. The evening is a fundraiser for Arts Corps.
The event includes a tasting of wines from 25 local wineries. appetizers from the Hard Rock kitchen, and four bands with strong wine-industry connections.
Paul Gregutt, the Seattle Times' wine critic, leads a musical lineup that includes The Super Lucky Cats (led by Rob Newson of Boudreaux Cellars), Jamie Brown of Waters Winery and Gordy Rawson of Chatter Creek winery.
Read Gregutt's most recent column here.
Get additional details about Wine Rocks Seattle by following this link.
And read more about the Seattle Hard Rock Cafe here.