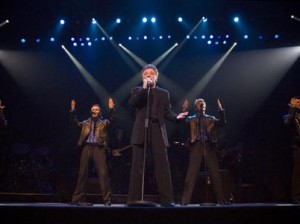 By GENE STOUT
Still witty and engaging after decades of performing, 80-year-old Frankie Valli led his storied vocal group on a baby boomer nostalgia trip Friday, Sept. 12, at Chateau Ste. Michelle winery.
Frankie Valli & The Four Seasons, whose tale has been told in the Broadway musical and movie "Jersey Boys," rolled out hit after hit for a capacity crowd on a flawless, late-summer evening at the winery amphitheater. Under the guidance of producer and songwriter Bob Crewe (who died Thursday, Sept. 11, the day before the show), the original vocal group dominated the record charts in the early '60s. But the current show features four younger singers backing Valli, along with a large band led by the very capable conductor, keyboard player, writer and producer Robby Robinson, who has been with Valli since 1978.
The fun, high-spirited concert kicked off the final weekend of outdoor shows, which included two performances by Crosby, Stills & Nash. It's been a stellar season at the winery, which more than a dozen sellouts. In fact, the season may have broken the venue's attendance record, with sunny weather bringing in more concertgoers.
Valli, who turned 80 last May, is affable and good-humored on stage. His famous falsetto gives him a slightly comic speaking voice, making me think of Dustin Hoffman attempting a Tony Soprano impersonation. Or maybe Dean Martin on helium.
Understanding his place in popular music history, Valli paid tribute other contemporary artists of the early '60s, notably Frank Sinatra. (He told the audience that he had been inspired to begin a singing career at age 7 after his mother took him to see Sinatra at the Paramount Theater in New York City.) The evening featured more than two dozen big hits of the '60s – not all of them originally recorded by the New Jersey-bred group.
Opening with the theme song from "Grease," Valli and his entourage of singers and musicians whirled through a selection of hits that included "Dawn" (highlighting his trademark falsetto), "Tell It to the Rain" ("Let's hope it doesn't rain," he quipped on the warm, cloudless night), "My Eyes Adore You" and a beautiful version of "The Night."
Then Valli teased, "I think I'm too old for this … We're going to slow it down. Because I have to." Which brought laughter from the audience and launched a selection of mellow pop songs from the early '60s, including Shirley Bassey's "Call Me," Gilbert Becaud's "Let It Be Me" and Ben E. King's iconic "Spanish Harlem" (with vigorous handclaps from the audience). Valli and company continued with "My Girl/Movin',' Cole Porter's "I've Got You Under My Skin" (which he dedicated to Sinatra, one of his greatest idols), the classic "Stay," "Swear to God" and "Silence Is Golden," a B side that became a hit (Valli humorously dedicated it to those in the witness protection program).
Next came "Opus 17 (Don't Worry 'Bout Me)," the sensational hit "Rag Doll" and "Who Loves You," which brought the crowd to its feet. "December 1963 (Oh What a Night)" received a boisterous reception as well. "Can't Take My Eyes Off You" brought swoons from the audience" before an explosive rendition of "Sherry," one of the group's signature hits, and "Walk Like a Man."
The group closed with "Big Girls Don't Cry," then returned without pause for an encore of "Let's Hang On," which could be a theme song for the enduring band.
On Oct. 2, Valli will release his first new studio album in 15 years, "Romancing The '60s." His current tour resumes Oct. 9 at the Palace Theatre in Albany, N.Y.
Watch a video of Frankie Valli and the Four Seasons' 1990 induction into the Rock and Roll Hall of Fame: