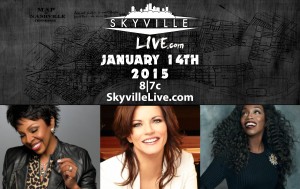 By GENE STOUT
On Wednesday, Jan. 14, a new concept in Internet entertainment – "Skyville Live" – will make its debut at 5 p.m. PT (8 p.m. ET) at the official website here.
The free, interactive, inaugural broadcast, which will stream in HD video in front of a Nashville studio audience, features performances by Gladys Knight, Martina McBride and pop/R&B singer Estelle. After its debut, the program will air monthly.
The formula for "Skyville Live" is this: take a mix of iconic acts, popular artists and emerging stars, put them in a casual setting of about 100 people, then allow people everywhere free access.
Viewers can choose their own camera views and interact with the artists via social media during the show – such as tweeting questions and comments at #SkyvilleLive. The show's Twitter handle is @skyvillelive.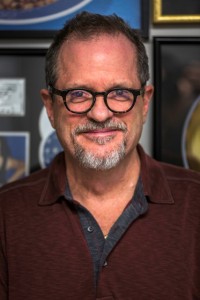 "Skyville Live" is also on Facebook. Find it here.
Grammy-nominated Nashville songwriter and producer Wally Wilson is the show's creator and executive producer. Collaborating with Wilson is Dan Bean, former owner and CEO at Aeromedia Network LLC and former Seattle concert promoter. Bean will serve as COO/Executive producer for Skyville Live LLC.
"Luck and timing are essential in show biz, and it appears that 'Skyville Live' has both," Wilson says. "There have been many great concerts streamed on the Internet, but to my knowledge, there has never been a network-quality program featuring major artists that has appeared on the Internet first. Now, at the dawn of the era of 'smart TV,' 'Skyville Live' has come along to change that."
"The show will have cross-genre and cross-generational artists performing (together and separately) on stage," Bean adds. "It'll be a very casual 'peek behind the curtain' opportunity to watch when artists get together in front of a small studio audience of their friends.
" 'Skyville Live' will capture the 'magic' that Wally has seen his entire life in recording studios when artists start jamming."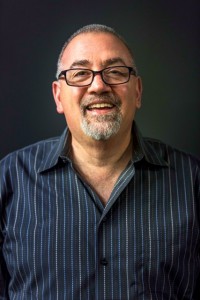 The debut show features three major female artists.
"I'm excited to be a part of the very first 'Skyville Live,' " says Martina McBride. "I think it's a really cool thing for the fans to be able to peek in from home a see a live show. And I'm excited about sniging with Estelle and Gladys. I've been a Gladys Knight fan for forever and am honored to even be on the same stage as she."