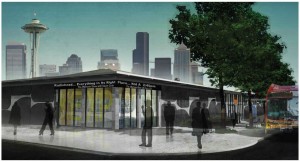 By GENE STOUT
In the coming year, beloved Seattle nonprofit radio station KEXP will move from its cramped headquarters on Dexter Avenue to a spacious new facility at Seattle Center.
The new facility at the Northwest corner of Seattle Center will be a game-changer for the eclectic, cutting-edge alternative music station, allowing it to reach a higher level of engagement with artists and the community, increase its profile in a vibrant new neighborhood near KeyArena; and allow curators, staff and volunteers room to expand their work.
Groundbreaking for construction of the new facility is scheduled Jan. 28.
The new building (originally designed by Seattle architect Paul Thiry for the 1962 World's Fair) will house the station's studios, offices and a new, 4,500-square-foot public gathering and live performance space that will include a record store and cafe. More than 400 in-studio performances are planned once the building is in operation.
The facility will be 27,000 square foot instead of the current 8,500 square feet on Dexter.
"We could have taken the route of just building a larger version of what we already have and locating in Georgetown or Kent or somewhere," KEXP executive director Tom Mara said Tuesday during a media tour of the new building.
"But instead we decided to make the facility another way of engaging (the public)."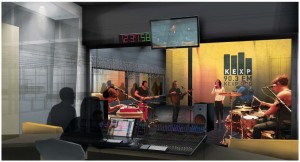 KEXP's new home, scheduled to celebrate its grand opening next spring, will feature more live music, with room for 75 people to view each in-studio performance free of charge. The station says its listeners love to hang out and listen to music and share the experience with others.
The new facility will also offer educational opportunities in collaboration with other local nonprofit. Resources for artists will include secure storage for musical equipment and a green room with showers and laundry, allowing touring musicians a chance to "un-tether" from their touring vehicles and explore the city.
The facility will provide better tools and equipment for KEXP DJs and content producers, with flexible, state-of-the-art broadcast and recording systems and technology, as well as a new music library (the station's current library is housed in a cramped, 250-square-foot room).
"We're completely maxed out on space," said DJ Larry Rose during a tour of the station's current headquarters.
KEXP offered more than 500 in-studio performances in 2014, including remote broadcasts from New York City and Reykjavik, Iceland. KEXP's YouTube channel receives 700,000 unique visitors a week and has 562,000 subscribers.
Facebook "likes" total more than 200,000, and the station has 99,000 Twitter followers. Last year, the station produced more than 70 community events.
Capital budget for the new facility is $15 million, $8 million of which has already been raised.
KEXP's current lease at the Dexter location expires this year, and the property will be redeveloped by Vulcan.
Learn more about the station by visiting its website here. And keep up with the news about the campaign for KEXP's new home here.
In the following video, listen to rapper Macklemore, DJ John Richards, EMP Museum curator Jasen Emmons and others talk about what the station has meant to Seattle: