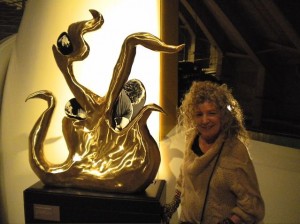 Renowned Seattle metal-and-glass artist Ginny Ruffner has collaborated on a striking sculpture with musician and photographer Graham Nash of Crosby, Stills & Nash.
The piece, titled "Beauty Flows in Many Ways," is on display in conjunction with "Taking Aim: Unforgettable Rock 'n' Roll Photographs Selected by Graham Nash," an exhibit of rock photos currently showing at the Experience Music Project / Science Fiction Museum and Hall of Fame.
The exhibit was co-curated by Nash and Jasen Emmons, EMP/SFM's director of curatorial affairs.
Read about the "Taking Aim" exhibit here.
The piece combines Ruffner's sculpture with Nash's photography and music, which emanates from the installation.
The piece "evolved out of similar attitudes about the different forms of beauty," Ruffner said in a statement.
"The flowing motion of the bronze element echoes the flowing music. Human participation in music is referenced in the location of the mouth, hands and back (from Nash's photos) in laminated glass elements.
"Visually, the music takes the biomorphic, bronze form (by Ruffner), flowing between the human senses, connecting them.
"Audibly, the actual music (composed by Nash) flows acoustically between the senses as well as emanating from the sculpture."
Read more about Ruffner and her extraordinary works by visiting her Web site. And here's a link to Nash's Web site.
View a 1999 KING-TV "Evening Magazine" profile of Ruffner: