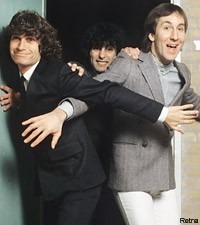 To mark the passing of Doug Fieger on Feb. 14, Spinner.com takes a look back at the legacy of The Knack and its milestone rock 'n' roll hit, "My Sharona."
Writes Steve Baltin: "There are lots of ways to put 'My Sharona' in historical context: the number of artists who have covered it, from Veruca Salt and Yo La Tengo to the Chipmunks and Pearl Jam; the song's occasional reentry into pop culture, like on the soundtrack to 1994's 'Reality Bites,' or when President George W. Bush listed the song on his iPod in 2005; and the sampling of it by acts like Run-DMC on 'It's Tricky' and Madonna during her 2006 'Sticky & Sweet' tour.'
"And then, of course, there are the parodies: from Cheech and Chong turning the song into 'My Scrotum' in 'Cheech & Chong's Next Movie' to the Dead Kennedys singing 'My Payola.' The most famous of these parodies is 'Weird Al' Yankovic's 'My Bologna' — the song that started Yankovic's career.
"After hearing of Fieger's passing, Yankovik tweeted, 'R.I.P. my dear friend, Doug Fieger (lead singer of the Knack and the first artist to ever approve one of my parodies).' "
Read Baltin's entire story here.
Here's The Knack's official Web site.
And here's a video of The Knack performing the iconic rock song: