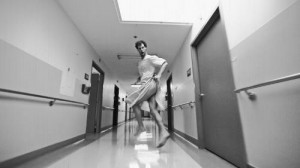 By GENE STOUT
Mudhoney's new video of "The Only Son of the Widow From Nain" arrives just in time for the Halloween season.
The comically macabre video, which made its debut Monday, Sept. 23, on Esquire.com, opens with an eerie shot of lightning striking the landmark, Art Deco-style Pacific Tower on Beacon Hill (the former Pacific Medical Center opened in 1933 as a veterans hospital). The hilarious video recalls scenes from "The Rocky Horror Picture Show."
"Only Son" is featured on the band's ninth album, "Vanishing Point" (Sub Pop Records). The video was directed by Carlos F. Lopez (who also directed band's "I Like It Small") and relates the story of a man resurrected from his death bed, causing a tumultuous scene at the hospital, which is filled with ghoulish, disfigured characters.
Esqure described the video as, "A nightmare of a hospital trip from start to finish . . . a jarringly perfect pairing for the 'The Only Son of the Widow From Nain' and its unflinching allergy to bull—- by way of lackadaisical lyrics and power chords."
Mudhoney's current fall/winter tour opens Sept. 23 in Washington, D.C., and includes a show with Pearl Jam Dec. 6 at KeyArena. Read about Pearl Jam's new video here.
And read Esquire's story here.