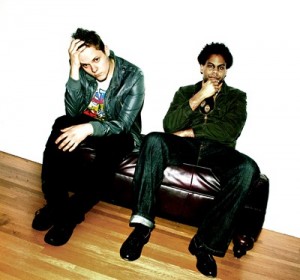 Seattle hip-hop duo Fresh Espresso has released its first video, the first "cinematic" offering from its debut album, "Glamour." Fresh Espresso represents a new wave of talented Seattle hip-hop acts.
The video was shot in two days last August and features cameos by members of Mad Rad, They Live! and the crew from Winner's Circle. Making his debut on the video is Skye Edwards, an 18-year-old dancer from Colorado.
"We found a homemade video of Skye on YouTube, of him just dancing to one of our songs," says producer and rapper P Smoov. "It was so filthy, we had to have him fly out to be in the 'Big Or Small' video."
Fresh Espresso performs Friday (Dec. 4) as part of the two-day mini festival GO MACHINE! Dec. 4-5 at the Crocodile Cafe. In addition to Fresh Espresso, the two-night lineup includes Mad Rad, Champagne Champagne, Macklemore, Thee Satisfaction, Fatal Lucciauno, Grynch, Spaceman, The Physics, Helladope, Katie Kate, They Live! and DJs Darwin and Swervewon. Tickets: $15 a night or $20 for a two-night pass. You must be at least 21.
"It's going to be two solid nights of some of the best in Northwest hip hop," says Rik Rude, rapper and MC for Fresh Espresso.
Host of GO MACHINE! is Murder City Devils frontman Spencer Moody, who promises two nights of genre-crossing performances.
Fresh Espresso and Champagne Champagne, also performing Dec. 4, are featured on the GIVE, a compilation of local music released by Caffe Vita for the holidays. All proceeds from the sale of GIVE will benefit Arts Corps Seattle and a number of local food banks.
Fresh Espresso's debut video was released by Out For Stardom, in conjunction with Gray Matter Productions: