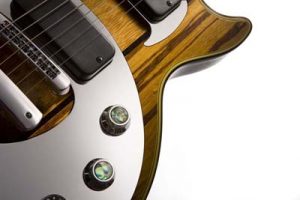 Gibson Guitar and John Roderick of Seattle band The Long Winters have teamed up for the launch of Gibson's newest electric guitar, the Dusk Tiger, featuring third-generation Robot Technologies.
Roderick, who is always entertaining in front of a crowd, whether he's performing or just speaking, demostrates the new axe at 3:30 p.m. Monday (Dec. 7) at the Learning Labs at the Experience Music Project and Science Fiction Museum. A Q&A session with a Gibson product specialist follows.
The third-generation Robot Technologies guitar will be introduced at 200 retail sites worldwide, 100 of them in the United States. A limited run of only 1,000 units will be produced, and each store will get five guitars. No more will be manufactured or sold.
Is the Dusk Tiger a revolutionary guitar? See for yourself at the demo session. Or read what Gibson has to say about its new product here.
And here's a post by guitarist Billy Penn on the 300Guitars Web site.