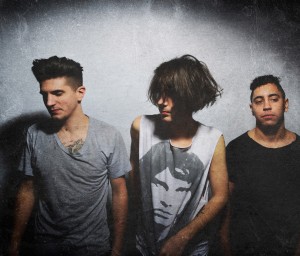 By GENE STOUT
Born Cages whips up a potent brew of EDM and 1980s-style synth rock on its debut full-length album, "I'm Glad I'm Not Me."
The new album was released last June on the New York City-based label, Washington Square (also home to The Hold Steady).
Last November, the music video for "Rolling Down The Hill" won mtvU's The Freshmen competition, and the single reached No. 7 on Alternative Specialty Radio.
The New York-bred band features lead singer and guitarist Vlad Holiday, bassist and keyboardist Matt Maroulakos keyboards and drummer David Tantao.
Born Cages has shared stages with bands like Hockey, Magic Man, X Ambassadors, Donald Cumming (of The Virgins), Har Mar Superstar, Gold Fields, JD Samson and Said The Whale. Back in the winter of 2012, the band opened two shows for Guns N' Roses.
Earlier this summer, the group played the entire Vans Warped Tour. The band's current trek features an opening set for headliner The Lighthouse and support band The Whaler Sunday, Sept. 20, at Barboza.
Watch the video of "I Just Want the Truth, Baby" here: