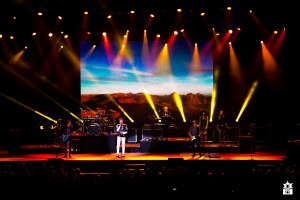 By GENE STOUT
If '80s New Wave band Duran Duran had any misgivings about adding a state fair date to their current tour, they must have been dispelled at Wednesday's concert.
Led by singer Simon Le Bon, the group played Sept. 23 at the Washington State Fair, with Nile Rodgers and Chic opening with a dance-fueled set.
Duran Duran's arrival at the fairgrounds required a traffic-stopping police escort. While the band was enroute, concertgoers began filling seats at the 10,000-capacity grandstand and infield.
Here's what I wrote in a review for The Seattle Times:
"Duran Duran's new album may be titled 'Paper Gods,' but the four Brits proved they are living, breathing rock stars Wednesday at the Washington State Fair.
"In a show that was powerful, energetic and surprisingly current despite the group's long history as a New Wave band forged in the '80s, the now 50-something rockers shared three decades of hits that have held up extremely well."
Seattle photographer Karen Mason-Blair, who chronicled the Seattle grunge scene more than two decades ago, shot the live photo above.
Read my entire review here.