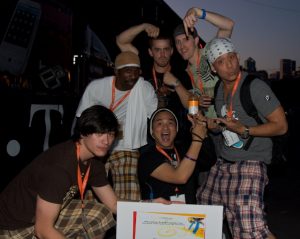 Techflash: The results are in from Thursday night's "Battle of the Tech Bands" contest at Pyramid Alehouse.
Lions Ambition, a local hip-hop band with ties to Boeing, was the winner of the "most innovative band" honors. Indigo Soul, a classic-rock group, was chosen "audience favorite."
The "Summer Celebration" event was sponsored by Xconomy.com and the Washington Technology Industry Association.
Read my review from Techflash.com.
(Editor's note: The singer in Indigo Soul was incorrectly identified in the Techflash story. Her name is Jerri Roberts, who was filling in for the regular singer, Lisa Dawson.)