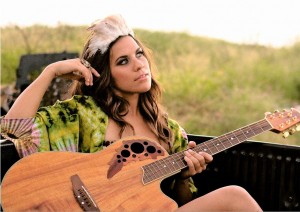 By GENE STOUT
Hawaiian singer-songwriter Kimie' blends acoustic soul, reggae, R&B and funk on her new album "To the Sea."
It's intoxicating, romantic music that could bring her many new fans on a tour of the continental United States this fall. Check out her video of "Is This Love?" below.
Kimie' (pronounced Kimi-a), who is of Hawaiian and Portugese descent, began performing at a young age and taught herself guitar while she was in high school. (Her full name is Kimie' Miner.)
"I fell in love with music as a child, and it naturally just became a part of my life," she says.
For years, she felt her music was too personal to share until she met reggae artist Barrington Levy.
"I guess you could say I was a kind of a closet musician at first. I think meeting Barrington Levy changed that for me. The experience of being on stage and on the road with him really inspired me to pursue my own musical career."
As part of the Hawai'i '13 tour, Kimie' opens for Hawaiian group The Green Tuesday, Nov. 19, at Showbox at the Market. Doors open at 8 p.m. Tickets are $20 in advance, $24 day of show. Visit the Showbox website for more information.
Learn more about Kimie' at her official website here.