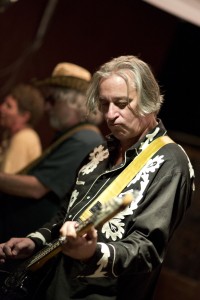 By GENE STOUT
Former R.E.M. guitarist Peter Buck, a longtime Seattle resident, has announced the dates and lineup for the third annual Todos Santos Music Festival, a seven-day concert event in Baja California Sur to benefit local charities.
The festival is scheduled Jan. 16-18 and Jan. 22-25 in picturesque Todos Santos, located in the southern Baja region of Mexico. The festival includes several nights of live music at the Hotel California, with the final concert at the historic Todos Santos Town Plaza.
Curated by Buck, the lineup features established bands and emerging artists. In addition to Buck, performers include Ed Kowalczyk (former lead singer of Live), The Minus 5, The Dream Syndicate, Drivin' n Cryin', Mexican indie-pop group Torreblanca, Mexican rock-fusion band Twin Tones, and Cumbia band Sonida Gallo Negro. More acts (and surprise guests) will be added later. The festival also features a local music showcase of up-and-coming Southern Baja artists.
Todos Santos celebrates the cultural roots of the town of Todos Santos, one of only two towns in Baja to be awarded the designation "Pueblo Magico."
"The festival is just a natural extension of the unique artistic vibe of Todos Santos," Buck says. "It is intimate, eclectic and multicultural. We are fortunate that such great musicians are willing to donate their time to join me in adding to the cultural vibrancy of the town and, at the same time, in giving back to this special community."
There's a long list of festival beneficiaries, including The Palapa Society (a nonprofit providing education and scholarship opportunities for local children), Escuela Pacifica (a nonprofit school for grades 1-6), Hogar del Nino (a home for orphaned and abused children), Albergue Escolar (a boarding school for local ranch children), DIF Municipal (a support organization for families), ProPlayas A.C. (an organization providing lifeguard training and beach safety), Amigos de los Animales de Todos Santos (an animal shelter) and, finally, Bomberos (the local fire department).
Tickets for all Todos Santos Music Festival events are available now at the official website.