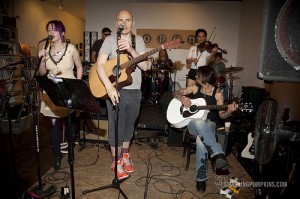 Maybe the Seattle music scene's huge talent pool could yield a new bassist or keyboardist for Smashing Pumpkins. Is somebody up for this?
The group sent out this statement today:
"With the news that the Smashing Pumpkins bassist Ginger Pooley has left the band to raise her new baby with her husband, Billy Corgan has announced that he will look for a new bassist in the same manner as he found new drummer Mike Byrne last year: via an open audition process (see below for details).
"Corgan also says that auditions will be held (again, see below) for a new keyboardist who is a fan of — and can play in the prog-rock style of — Jon Lord and Rick Wakeman.
"Until a new bassist is found, Mark Tulin of The Electric Prunes — with whom Billy toured last year in Spirits In The Sky — will fill in on an interim basis. Look for the Pumpkins to soon announce a world tour, including dates in the U.S.
"Says Ginger, who toured the world with the band in 2007 and 2008: 'With sorrow and yet with much thankfulness for the opportunity to have played in the Pumpkins, I am sad to say that I can no longer tour with the Pumpkins.
" 'Although I've been blessed beyond belief over the past few years through playing with the Pumpkins, my priority now is to keep our little family unit together, which includes my husband and my baby. Although I do plan on continuing to do music in different forms, my priority is for neither my husband nor myself to be apart from our daughter so that we can raise her together.
" 'I wish Billy all the best and look forward to seeing the Pumpkins in the near future. I would also like to thank all of the Pumpkins fans for all of their support. I will see you at the Pumpkins shows!'
"Says Billy: 'Although I am heartbroken that Ginger is leaving the group, I really respect her decision to put her family first. I appreciate everything that she has contributed to the Smashing Pumpkins, and I'm proud of her for being such a great musician and friend.
" 'We were lucky enough to find drummer Mike Byrne through an open audition process,' Billy adds, 'so why not open the doors again to anyone who might be interested for the bass or keyboard position? As you can see from our past and present, age, race, or a person's background is not an issue. Everyone is truly welcome to audition.'
"Bassists and keyboardists looking to play with the Pumpkins should send their background info (including age, a resume of any bands/recorded work), photos and performance Web links via email only, either to pumpkinsbass@gmail.com or pumpkinskeys@gmail.com. Note: only musicians with video clips can be considered. Youtube.com type posts are perfect — that's how Mike was found.
"Final date for submission is March 31."
Since forming in Chicago in 1988, the Smashing Pumpkins have sold more than 30 million albums. Visit the band's Web site by clicking on this link.