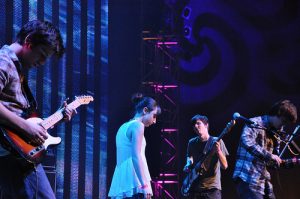 A Sammamish band made some waves at the Sound Off! finals Saturday (March 6) at the Experience Music Project and Science Fiction Museum.
The annual battle-of-the-bands competition, whose past winners include Schoolyard Heroes, The Lonely H, Idiot Pilot, Natalie Portman's Shaved Head and others, awarded Great Waves of Sammamish the top prize in the four-band showdown at Sky Church.
Led by the ethereal vocals of singer Ashley Bullock, Great Waves performed a riveting set that fused bluegrass, folk and alternative rock. The band's performance indicates a bright future.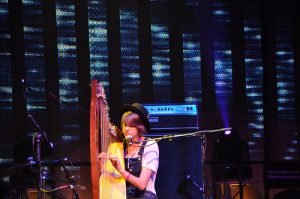 As first-place winners, Great Waves will perform at the 2010 Bumbeshoot festival next summer and play an on-air set on "Locals Only" on KNDD, 107.7 FM ("The End"). The band will also receive two days of studio time at Orbit Audio, the production of a song with Glenn Lorbecki of Glenn Sound Studio and a consultation from the Recording Academy, among other prizes.
Second-place winner Hooves and Beak (featuring Kansas transplant Whitney Flinn on vocals and harp) also made a strong showing. Flinn's natural charm and deft musicianship could find her on a national stage in the coming year.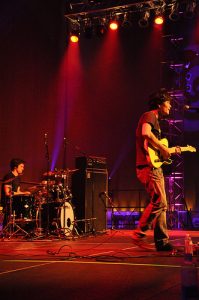 Candysound, a guitar-drum duo from Bellingham and Burlington, came in third place with a powerful set that mixed hard-rock with subtle vocal stylings and strong melodies. SEACATS, from Kelso, won fourth place with an infectious garage-rock performance. With two 14-year-olds in the band, SEACATS are a precocious bunch with time to grow.
Regardless of their places in the competition, all four acts triumphed over hundreds of other entrants. EMP/SFM received a record 130 entries this year from Northwest artists.
Among the judges were John Roderick of The Long Winters, James Keblas of the Mayor's Office of Film and Music, Andy Roe of AEG Live and Spencer Manio of now-defunct The Saturday Knights.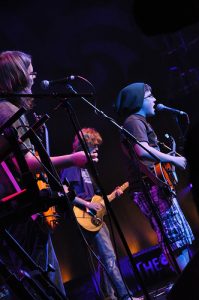 For more information about the contest, follow this link to EMP/SFM.