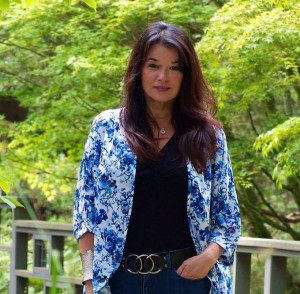 By GENE STOUT
It's been nine years since Northwest singer-songwriter Kellee Bradley has released an album. Her new "Milestones" CD reflects the journeys she has taken in the last decade.
"I suddenly realized it had been nine years since my last CD, and I thought, 'How did that happen?' I have been so busy facing life's challenges, adapting, learning and growing. As I've navigated through the changes, I realized all the milestones that have shaped my life, and how I have had to change in ways I never thought possible."
Bradley writes sophisticated, heartfelt folk-pop songs. In her fourth album, Bradley alternates between emotional vulnerability and resolute self-confidence. Singing in a clear, calm voice, Bradley faces life's challenges with an optimistic tone, whether it's the upbeat "Good News" or the wistful, romantic "I Believe."
In the opening song, "Self-destruct," she sings: "Close your eyes and wish me luck / I'm about to self-destruct / I will try to keep the volume down / When I hit the ground."
Bradley closes the album on a high note with "Good News": "I've got better things to do with my time / Than sit around and cry about the things I haven't done right."
"All of the pain, the sorrow and the joy of life shapes us and smooth's us, like stones in a stream. Like those stones, you can toss me around, but you can't keep me from becoming a thing of beauty and grace. So why not open our arms to life, to the milestones that make us who we are?"
Recorded in Santa Monica, Calif., with producer Ronan Chris Murphy, "Milestones" features musicians Kim Bullard (who has worked with Elton John, CSN, Cher), Chad Quist (Big Brother and the Holding Company, Glenn Yarborough), Gary Sparling, Doug Carr, Aaron Barber, Laurie Geltman and Curtis Fornadley.
Bradley made her singing debut at 15 with an appearance on the Easter Seals National Telethon, after writing a song for the telecast. "Milestones" follows previous albums "Waiting," "I Talk to the Stars" and "The Season," her debut album with producer Ronan Murphy, whom she met at the South by Southwest music festival and conference.
Over the years, Bradley has had the honor of opening for Chicago, John Mellencamp, Huey Lewis, JoDee Messina, the Steve Miller Band, Christopher Cross, Basia and Dar Williams.
Bradley has a full calendar of shows for August.
She performs at 6 p.m. Aug. 8 at the Mt. Si Festival in North Bend, 3 p.m. Aug. 10 at the main stage at the Kirkland Summerfest in downtown Kirkland, and with a full band from 6:30-8 p.m. Aug. 22 at a family oriented City of Seatac Summer Concert at Angle Lake Park (19408 International Blvd., Seatac).
For more information about Bradley and her upcoming shows, visit her website here.