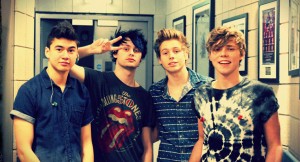 By MIKEL TOOMBS
With its July 24 (that's 2015, folks) show at KeyArena, the adorable Australian boy band 5 Seconds of Summer, hoping that its 15 minutes of fame won't be up by then, will help Seattle celebrate its own five seconds of summer. (Obviously, that's not strictly true but, shhh, don't tell anyone.)
For those above a certain age, be aware that 5SOS (5 Sauce to those of that age), whose self-titled debut album just landed at No. 1 with 258,643 copies sold in the first week of release, is sort of a punk Justin Bieber (mind you, we're talking music here).
The band's first North American headlining tour, produced and promoted exclusively by Live Nation and presented by Nabisco, will kick off on July 17, 2015, at the Mandalay Bay Event Center in Las Vegas, Nev. Tickets for the KeyArena show go on sale at 10:00 a.m. Saturday, Aug. 9.
Learn more about the group at the official website here.
The video below has received more than 58 million views: