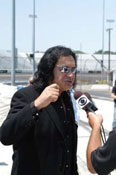 The KISS "Alive 35" tour rolls into Seattle for a show at 7:30 p.m. Sunday (Nov. 15) at KeyArena.
For ticket information, following this link.
The heavy-metal band known for its ghoulish facepaint and pyrotechnically enhanced shows is always popular in Seattle. Here's a Seattle Post-Intelligencer review of the group's 1997 show at KeyArena.
Rolling Stone magazine reviewed the second show of the tour in Cleveland in late September. Read it here.
Here's a recent concert video of KISS: