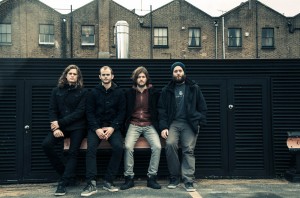 By GENE STOUT
Kongos, a Phoenix, Arizona-based band of brothers (by way of London and South Africa), is making waves on the alternative-rock charts with "Come With Me Now," a gritty, bluesy, hard-rocking folk tune performed with such instruments as banjo, accordion and slide guitar.
The song has been featured in promos for the NFL, NBA and ESPN, as well as the trailer for the Leos Carax 2012 art house film, "Holy Motors."
The group of siblings – the sons of '70s South African and British singer-songwriter John Kongos – are already hitmakers on South African radio after a series of hit songs from the album "Lunatic," the foursome's 12-song debut album on Epic Records. They've also played some of South Africa's largest festivals and played to crowds of more than 60,000.
Featuring brothers Dylan, Jesse, Johnny and Danny Kongos, the group is set to begin a U.S. tour with The Airborne Toxic Event Wednesday, Feb. 5, in St. Petersburg, Fla. A Seattle date isn't scheduled yet, but could be added later.
Kongos also joins the Foo Fighters, Outkast, Jack Johnson and other artists at the Firefly Festival June 21 in Dover, Del.
The group makes its U.S. TV debut March 5 on "Jimmy Kimmel Live!"
Read more about the group at the band's official website here.