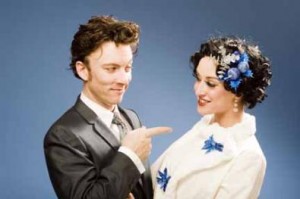 If a traditional production of "Nutcracker" is too straight-laced for you, consider "Land of the Sweets: The Burlesque Nutcracker," a spectacle that offers "a perfect mix of singing, acrobatics, glamour and smutty jokes," says co-creator Jasper McCann.
The 1930s-style burlesque interpretation of the holiday classic by McCann and Lily Verlaine has been so popular that the troupe decided to stay in its hometown of Seattle this season rather than tour, despite a successful run in Chicago last year.
The fourth annual production continues its extended run at the Triple Door Monday (Dec. 21), and tickets are getting scarce.
The cast includes local burlesque stars Verlaine, Miss Indigo Blue, Waxie Moon, Kitten La Rue, Babette La Fave and Ben De LaCreme, as well as Inga Ingenue, Lou Henry Hoover, Polly Wood and The Aerialistas.
For more information, visit the Triple Door Web site.