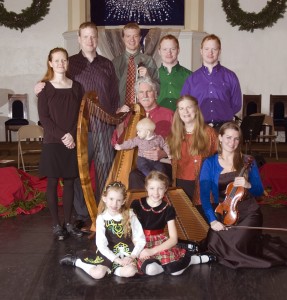 Singing, dancing, caroling, juggling, storytelling and then some. That's what you get at a typical Magical Strings Celtic yuletide concert.
Now celebrating its 31st year of holiday concerts, Magical Strings is a family tradition started three decades ago by Phillip and Pam Boulding. The couple's entire family has been along for the ride, creating a seasonal show that's in a class by itself.
The group combines Celtic harps, hammered dulcimers, violins, cellos, whistles, concertina and other instruments in a performance packed with traditional sounds.
This year, Magical Strings are joined by Raney Irish Dancers and the Tara Academy of Irish Dancing, juggler Thomas Arthur, vocalists Mark and Colleen Raney and Irish flutist Hanz Araki, as well as Tom Creegan on Uilleann pipes.
Each concert features a story in the ancient Celtic tradition, as well as a medieval processional with audience participation. The evening concludes with a singalong of traditional carols.
Performances are at 7:30 p.m. Friday (Dec. 18) at Urban Grace, 902 Market St., Tacoma; and at 3 p.m. Saturday (Dec. 19) at University Christian Church, 4731 15th Ave. N.E.
Tickets are $26 reserved, $18 general admission and $12 children (or $2 more at the door). Order them online at the Magical Strings Web site or from Brown Paper Tickets and by phone at 800-838-3006.
In September, Magical Strings released a holiday album, "Good People All — A Celtic Yuletide Tradition," that captures the magic of the group's live performances.