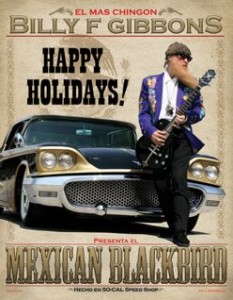 ZZ Top's Billy Gibbons recently displayed his latest hot rod at the 18th annual Mooneyes Hot Rod and Custom Show in Yokohama, Japan, the biggest car show of its kind in Asia.
Dubbed The Mexican Blackbird, Gibbons' over-the-top ride is a 1958 Ford Thunderbird named after a ZZ Top song from the band's 1975 album, "Fandango!"
The black-and-gold custom car was also featured on Gibbons' recent holiday card pictured above.
By the way, ZZ Top celebrates its 40th anniversary this week. The raucous blues-rock band formed on New Year's Eve 1969 and played its first show in February 1970.
The Mexican Blackbird is the latest ZZ Top vehicle to star in a video. Watch it and other highlights from the Yokohama show here.