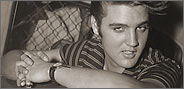 Fans are gearing up for what would have been Elvis Presley's 75th birthday on Friday, Jan. 8.
The Elvis Presley Birthday Celebration 2010 is Jan. 7-10 in Memphis, Tenn. Tickets can be purchased online at the official Presley Web site.
Here in Seattle, the 13th annual Elvis Invitationals are taking place at Club Motor on First Avenue South. You'll find all the details here.
The Independent in the United Kingdom takes a look at Presley fans, artists and enterpreneurs who have turned the Presley legend into a $45 million industry. One reader also also suggests a gift for the late rock 'n' roll star. Read the story here.
Richard Ouzounian, writing for the Toronto Star, thinks Presley's crown is slipping and that the anniversary of his death in 1977 has been eclipsed by the passing last year of the King of Pop, Michael Jackson. Read his story here.
Nevertheless, the Presley legend endures — and Presley fans aren't going to trade their man for the King of Pop.
Turner Classic Movies is airing nearly a full day of Presley movies and documentaries on Friday. Check the schedule, which includes "Harum Scarum," "Speedway," "Viva Las Vegas," "Blue Hawaii" and other classic Presley films.
Sadly for Seattle fans, TCM isn't airing "It Happened at the World's Fair," the movie Presley filmed in 1962 during Seattle's Century 21 Exposition.
Check out this vintage movie trailer, with footage of the world's fair (and Presley's tiny Asian American co-star Vicky Tiu):