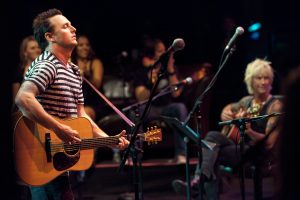 Singer-songwriter Rachel Flotard's soaring version of "Blue Bayou" easily could have been the theme song of last night's "Hootenanny for a Healthy Gulf" at the Moore Theatre.
With its lyric about "looking forward to happier times," it struck a chord for the benefit to support efforts of the Gulf Restoration Network, the only nonprofit exclusively focused on the health of the Gulf of Mexico following the massive BP oil spill. For a preview of the event, click here.
Organized by Debra Heesch of the Seattle Theatre Group and led by Pearl Jam guitarist Mike McCready, the concert attracted more than a dozen local musicians, from Duff McKagan (of Guns 'N Roses fame) to Alan White of Yes. There was a great sense of community among the musicians and the audience.
Singers and musicians stepped to the mike in round-robin fashion — often waiting their turn by sitting on a huge couch at the side of the stage.
Among the performers were Pete Droge, who sang "Crimson and Clover" while the audience filled in the na-na-na's; McKagan, who sang a beautiful "Wild Horses" with guitarist Jeff Rouse and White on drums; and Star Anna, who did the Beatles' "Instant Karma" and "Oh! Darling."
During the hour that I was there, Victoria Wimer Contreras also joined Jeff Rouse for the Oasis song, "Wonderwall," Mark Pickerel performed "While My Guitar Gently Weeps," and Kristin Ward sang the Concrete Blonde song, "Joey (I'm Not Angry Anymore)."
McCready offered a moving version of Merle Haggard's "Sing Me Back Home."
The first set ended beautifully with Guns 'N Roses' "Patience," featuring Shawn Smith on lead vocal, joined by Rouse and McKagan and the others. It could also have served as a theme song for the Gulf cleanup.
The cast of musicians included Chris and Rick Friel (Rick later performed "I'm a Believer" by the Monkees), Ty Bailie, Gary Westlake, Kim Virant and others.
Watch a video of Flotard performing "Blue Bayou" here.
(EDITOR'S NOTE: Rick Friel was incorrectly identified in a previous version of this story.)