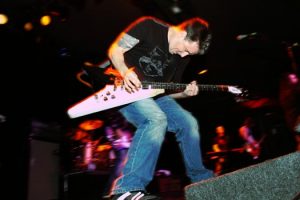 Are you satisfied that oil-eating microbes will tidy up the Gulf of Mexico after this year's mammoth oil spill? Or would you prefer to do something about it yourself — and have fun at the same time?
"Hootenanny for a Healthy Gulf" at 7:30 p.m. Thursday (Sept. 2) at the Moore Theatre is the latest musical fundraiser for a good cause — and it boasts a lineup of local rock luminaries that includes Mike McCready (Pearl Jam), Duff McKagan (Guns 'N Roses) and Kim Warnick (The Fastbacks). Warnick will lead a Fastbacks reunion at the show.
Also performing (subject to change) are Kim Virant, Kristin Ward, Star Anna, Mark Pickerel, Shawn Smith, Ty Bailie, Rebeqa Rivers, Justin Davis, Tim DiJulio, Chris & Rick Friel, Jeff Rouse, Rachel Flotard, Rusty Willoughby, Pete Droge, Victoria Wimer Contreras, Gary Westlake and others.
A silent auction and raffle are included, along with a talk by Northwest crabbers Edgar Hansen and Matt Bradley about their first-hand experience with the BP oil disaster. The evening also features an audience singalong.
Proceeds from the event will benefit Gulf Restoration Network (GRN), the only non-profit exclusively focused on the health of the Gulf of Mexico.
Tickets are $20 in advance, $25 day of show. They can be purchased online at STGpresents.org, by phone at 877-784-4849 or in person Paramount and Moore theaters.
Here are three different perspectives on the oil spill, from USA Today, Time magazine and ABC World News.
(EDITOR'S NOTE: The above photo of McCready was attributed to another photographer in a previous version of this story. The photo was taken by Anna Knowlden.).