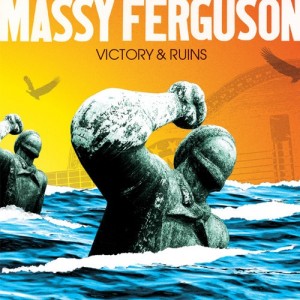 By GENE STOUT
It's a perfect fit: Seattle country-rock band Massy Ferguson (named for the company that makes tractors and farm equipment, but with a different spelling) is playing the Tractor Tavern — one of its favorite venues.
Massy Ferguson opens a double bill Saturday, Jan. 4, with headliner The Paperboys, a Canadian folk band that always rocks the house.
Massy Ferguson has had a big year, opening for Luke Bryan at the Watershed Festival last summer at The Gorge, completing a danger-filled tour of Honduras, playing a Bob Dylan tribute show at the Sunset Tavern and releasing a new album, "Victory & Ruins," at a sold-out show last April at the Triple Door.
From an account in the band's digital newsletter, it seems the Watershed Festival was as fun off stage as in was on stage: "The stage was amazing and the backstage was even better (free massages, open bar, a pool and a bunch of country stars and country star groupies to entertain us)."
The band describes the Honduras tour as a harrowing experience that included "flying into the most dangerous city in the world, San Pedro Sula, and making it out alive. Though the ferry to Roatan almost capsized and the single-engine Cessna had no working doors or seat belts."
Watch the band's video of "Hello!" here.
And get all the details about the show at the Tractor here.