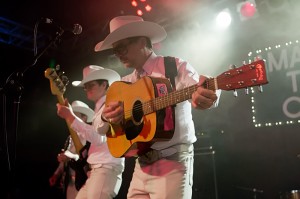 By GENE STOUT
Country-rock band Brent Amaker and the Rodeo are among a slew of Seattle area bands playing this week's anniversary shows for Moe's and Neumos, which are celebrating their 20th and 10th anniversaries, respectively. Located at 925 Pike St., Moe's opened in 1994, followed by Neumos in 2004. The two clubs have been an anchor for Seattle's most vibrant club district.
Singer and guitarist Amaker has lost track of how many times his band has played at Neumos, but the group has performed at the Neumos stage at the Capitol Hill Block Party two years in a row.
"I absolutely love Neumos," Amaker says. "Not only is it one of the best stages and rooms in Seattle, but it sits right in the middle of everything on Capitol Hill. I feel like I'm hanging out with family every time we play there.
"When I first moved to Seattle in 1997, Moe's was the place to see shows. I'm really glad it was resurrected as Neumos, and the vibe there has gotten better and better as the years have passed. That rarely happens with rock venues. It speaks volumes about the ownership."
Performing Jan. 16, Brent Amaker and the Rodeo celebrate the release of a new EP, "Country Sky," produced by Portland's Jeff Saltzman, known for his work with Stephen Malkmus, Dolorean, Death Cab for Cutie and Menomena. The album is due Jan. 21 on Fin Records.
Here's the video of the single "Tequila Cerveza":
Carrie Akre of Hammerbox and Goodness describes her show as a "crazy class reunion" of former colleagues on the Seattle rock scene.
In 1995, Goodness (featuring drummer Chris Friel and bassist Fiia McGann, among others) recorded a song about Moe's titled "Smoking."
"It was a night-at-Moe's kind of song," said Akre, who recalled that Goodness performed more than a dozen shows at the club. "It was a great club. I would probably say the same thing about RKCNDY or the OK Hotel. But Goodness cut their teeth at Moe's."
In its heyday, Goodness toured with Pearl Jam, Cheap Trick and Oasis.
Performing Jan. 11, Akre (who currently lives in Minneapolis) has reassembled Goodness for the anniversary show. The evening's lineup includes the concert version of "These Streets," a musical play about female-led rock bands on the 1990s Seattle scene. It made its debut last winter at ACT Theatre. Read a review here.
"These Streets" features Gretta Harley (of Maxi Badd and other groups), Sarah Rudinoff, Elizabeth Kenny and Hollis Wong-Wear (who sang on "White Walls" by Macklemore and Ryan Lewis), plus music by Harley, Ron Nine, Faith Stankavich (Dream On) and Mary Genova (Heavy Mothers), as well as guests Akre, Lisa Orth (66 Saints), Selene Vigil (7 Year Bitch) and Vanessa Veselka (Bell).
The Jan. 11 lineup also features Faster Tiger (back together for the first time in 15 years), Gerald Collier and Lucky Me.
Singer-guitarist Robert Roth of Seattle rock band Truly (once signed to Capitol Records) spent many hours performing and hanging out at Moe's. (The band still features its original lineup – Roth, Hiro Yamamoto and Mark Pickerel.)
"We rehearsed a block away, so I was there all the time and got in free because I knew people who worked there," Roth said.
"I'd go over and see bands and then we'd jam the rest of the night and drink beer and hang out. It was such a fun time. My apartment was five blocks away from that neighborhood, so I was within walking distance. I think we played some of our best shows there in the mid-'90s."
Like Amaker and Akre, Roth has vivid memories of Moe's.
"I saw (Oklahoma band) the Flaming Lips there the week of the Oklahoma City bombing in 1995," Roth said. "They played 'What a Wonderful World' during the encore. There wasn't a dry eye in the house."
Truly plans to release a new single in March and a record a new album this year.
Here's a video of "In a Blue Flame Ford" from Truly's 1995 album, "Fast Stories . . . From Kid Coma" (Capitol Records):
Read my feature story on the Moe's/Neumos anniversary in The Seattle Times.
Tickets are $15 for most shows; two-day passes are $20. Here's the lineup:
Jan. 9 – Telekinesis, Wild Ones
Jan. 10 – The Posies (with the original lineup, including Jon Auer, Dave Fox, Mike Musburger and Ken Stringfellow), Alcohol Funnycar with guests, Pop Sickle and Rusty Willoughby (performing Flop and Pure Joy songs)
Jan. 11 – Goodness, "These Streets" with guests Selene Vigil (7 Year Bitch), Faster Tiger, Gerald Collier, Lucky Me
Jan. 12 – Truly, Sage, Hyperlung, Bali Girls (special early $5 show)
Jan. 13 – Hey Marseilles, Cataldo
Jan. 15 – The Thermals
Jan. 16 – Brent Amaker and the Rodeo, Fox and The Law