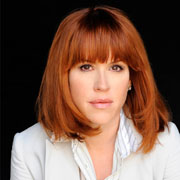 By MIKEL TOOMBS
Molly Ringwald became famous, of course, as the late film writer-director John Hughes' muse, starring in "Sixteen Candles" (1984), which explored the secret life of the American teenager, the high-school detention epic "The Breakfast Club" (1985) and ("Isn't she…") "Pretty in Pink" (1986).
More recently, she's been playing a mom on ABC Family's "The Secret Life of the American Teenager" (indeed) and, less prominently, singing with her father, Bob, a noted Dixieland pianist from Sacramento, Calif., that other delta town.
The Ringwalds first collaborated when Molly, now 45 (yikes!), was 6 years old, with her dad's Fulton Street Jazz Band. Today (well, April 9) she will finally release her debut solo album, "Except … Sometimes," "an homage to the Great American Songbook" that includes such standards as "The Very Thought of You" and "Don't You (Forget About Me)," the (not American) Simple Minds hit taken from "The Breakfast Club."
And if that's not enough redheaded goodness, Ringwald makes a one-night stand April 15 at downtown Seattle's Jazz Alley. Tickets are $20.50. For more information, visit the Jazz Alley website.
Watch Ringwald perform with the Fulton Street Jazz Band:
(EDITOR'S NOTE: Mikel Toombs is a frequent contributor to GeneStout.com. Read his recent story on Saint Maybe here.)