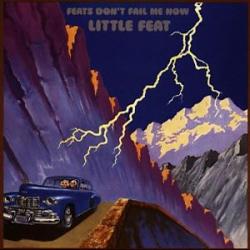 By GENE STOUT
Northwest musicians are gathering Friday for "Get Yer Feet Wet," a tribute show featuring the music of Little Feat, an eclectic, influential band that has played nearly every genre of roots-oriented music, from rock to soul.
The lineup of local all-star players includes Jeff Fielder, Garth Reeves, Chris Friel, Kim Virant, Andy Stoller, Jason Staczek, Mike Musburger, Ben Smith, Om Johari, as well as Perry Morgan, Jen Ayers, Ben Mish, Andrew Cloutier, Ronan O'Mahony and others.
Formed in 1969, Little Feat celebrated its 20th anniversary in 2008. Jimmy Buffett has been a longtime supporter of the group. Buffett's record label partnered with Little Feat's Hot Tomato Records to release the 2008 "Join the Band" album, featuring collaborations with Buffett, Dave Matthews, Emmylou Harris, Bob Seger, Béla Fleck, Brooks & Dunn, Chris Robinson of the Black Crowes, Vince Gill, Mike Gordon of Phish, and Inara George.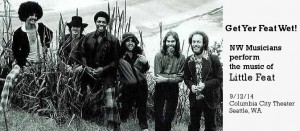 Two years later, Phish covered Little Feat's "Waiting for Columbus" album at their annual Halloween show in Atlantic City, N.J. The event exposed Little Feat's music to a new generation of fans.
The concert is Sept. 12 at the Columbia City Theater, 4916 Rainier Ave S.
Proceeds benefit MusicCares, a Grammy-based organization that provides a safety net for musicians in need. Services and resources cover financial, medical and personal emergencies. Read more about it here.
MusiCares provides a safety net of critical assistance for music people in times of need. MusiCares' services and resources cover a wide range of financial, medical and personal emergencies, and each case is treated with integrity and confidentiality.
To purchase tickets, follow this link to Brown Paper Tickets.
Read more about Little Feat on the band's official website here.