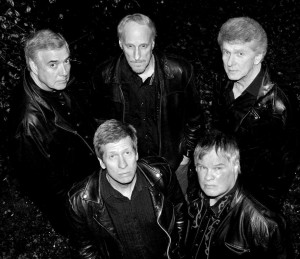 By GENE STOUT
Exciting news for fans of classic Northwest rock: legendary band The Sonics will release its first new studio album since 1967 on March 31.
The group known for such garage-rock classics as "The Witch," "Psycho," "Strychnine" and "Have Love Will Travel" will celebrate the release of the new album (on the band's own Tacoma-based Revox Records label) with a concert April 2 at the Moore Theatre, with Mudhoney and other guests. The show will kick off a month-long cross-country tour.
"This Is The Sonics" was recorded in "earth-shaking momo" by Detroit producer Jim Diamond of Ghetto Recorders at Seattle's Soundhouse Studios. Diamond is known for his work with the White Stripes, Dirtbombs and other bands. The album reunites original members Jerry Roslie (vocals and keyboards), Larry Parypa (guitar and vocals) and Rob Lind (saxophone, harmonica and vocals). Backing them are bassist Freddie Dennis (The Kingsmen, Liverpool Five) and drummer Dusty Watson (Dick Dale, Agent Orange).
The album comes 50 years after the release of "Here Are The Sonics" in 1965, followed by "Boom" in 1966. The latter propelled the band to fame with a gritty, dark, aggressive sound that defined early garage rock and swung a sledgehammer at the more melodic rock 'n' roll bands of the era. It's been noted that "(Jerry) Roslie howled a primitive cric de couer that took teenage desperation into far darker waters in the vein of Screamin' Jay Hawkins, Jerry Lee Lewis and Little Richard, with ominous, drug-soaked, even satanic themes, anticipating punk, heavy metal and grunge in its sonic force."
Younger listeners may recognize "Have Love Will Travel" for its use in a Modelo beer commercial and as a theme song for the 2014 season of Anthony Bourdain's "Parts Unknown" series on CNN. Dave Grohl of the Foo Fighters featured The Sonics and interview Parypa in the Seattle episode of the HBO series "Foo Fighters: Sonic Highways."
Listen here to the single "Bad Betty," originally released in a different version on a split seven-inch single with Mudhoney for Record Store Day last year.