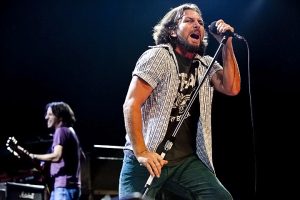 Pearl Jam will make its first appearance at the Jazz & Heritage Festival April 23-25 and April 29-May 2 — along with Aretha Franklin, Van Morrison, Lionel Richie, The Neville Brothers, Allman Brothers Band, Anita Baker, My Morning Jacket and many, many other artists.
Now in its fifth decade, the 41st festival at the Fair Grounds Race Course in New Orleans blends gospel, blues, traditional and contemporary jazz, rock, R&B, Cajun, country, zydeco and other genrres.
Among the special events is Louis Prima's 100th anniversary celebration featuring Keely Smith.
Also making first-time appearances are My Morning Jacket, Anita Baker, Jeff Beck, Gipsy Kings, The Dead Weather, The Levon Helm Band, Drake and Johnny Lang.
For complete information, visit the festival Web site.
Pearl Jam has had a busy year that featured the release of its current album, "Back Spacer." In September, the group performed at KeyArena. Read a review here. The group also performed at the Austin City Limits Festival in October and taped an episode of the "Austin City Limits" TV show. Read about it here.