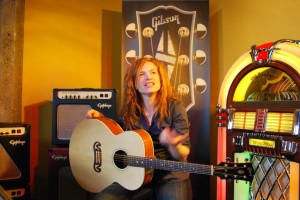 Seattle singer-guitarist Rachel Flotard is en route to Laos to deliver aid to local school children in need of a paved floor in their muddy classroom, as well as school and medical supplies.
Read about Flotard's mission in a previous story.
Flotard and her band, Visqueen, have had a winning year with the hit album, "Message to Garcia." Critics across the country have been piling on praise. Read my interview with Flotard earlier this fall. The album was released on Flotard's own label, Local 638 Records, named for her late father's pipefitters union.
On Monday (Dec. 14), Flotard was interviewed on National Public Radio's "Morning Edition." And later the same day, NPR's music editor picked "Message to Garcia" as the "biggest surprise of the year," musically speaking.
When Flotard returns from Laos, Visqueen will tour the entire U.S. in what will likely be a high-profile trek for the increasingly popular band.
Visqueen's next single from "Message to Garcia" is "Beautiful Amnesia."
Tuesday night (Dec. 15), Visqueen was the opening band at the KNDD, 107.7 FM, "Deck the Hall Ball." Read a review in the Seattle times.