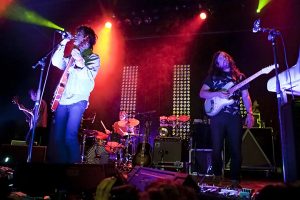 The Capitol Hill Block Party opened Friday (July 23) under sunny skies, kicking off the three-day urban music marathon in the core of the Capitol Hill nightclub district around East Pike Street.
There was a great party vibe all day along East Pike under roasting sunshine. Those lucky enough to have apartments overlooking the main stage jammed tiny balconies to watch the bands.
The first day's lineup featured such acts as MGMT, Shabazz Palaces, Bear in Heaven, Holy F**k and Champagne Champagne. Also making an appearance amid the crowds jammed in front of the main stage was Titanium Sporkestra, a horns-and-drums troupe.
Photos were taken by Seattle photographer Alex Crick on Friday.
For all the details on festival, which continues through Sunday (July 25), follow this link.
For my previous story on Block Party, click here.