The Lumineers were among the headliners at the 2012 107.7 FM The End "Deck the Hall Ball" Dec. 4 at KeyArena, performing a set of stirring songs from their debut album.
Seattle photographer Jim Bennett, a regular contributor to Genestout.com, was at the marathan holiday concert and captured the accompanying photos of the Denver, Colo., alternative/folk-rock band led by singer and guitarist Wesley Schultz.
In addition to Schultz, the band features Jeremiah Fraites (drums, percussion, mandolin and vocals) and Neyla Pekarek (cello, mandolin, piano and vocals).
Last winter, KEXP-FM morning DJ John Richards championed the Lumineers song "Ho Hey," playing it twice daily for a week and calling it the best song of 2012 (that was pretty optimistic, since it was only January).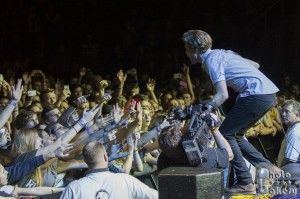 The group's self-titled debut album, recorded at Bear Creek Studio in Woodinville, was released last April on Dualtone Records and reached No. 11 on the Billboard 200 chart. The group recently received two Grammy Award nominations, for Best New Artist and Best Americana Album
The Lumineers are currently on tour with the Dave Matthews Band.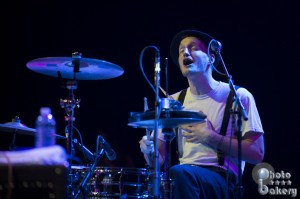 Read my review of Deck the Hall Ball in the Seattle Times. And visit Bennett's photography website here.
— Gene Stout