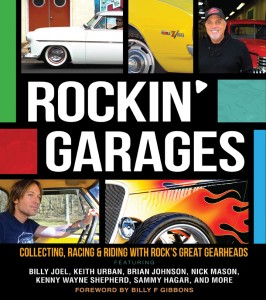 By GENE STOUT
Sir Mix-a-Lot, Billy Joel, Sammy Hagar, J Geils, Keith Urban, Brian Johnson (AC/DC), Brad Whitford (Aerosmith) and John Oates (Hall and Oates) are among the music stars featured in the new book, "Rockin' Garages: Collecting, Racing and Riding with Rock's Great Gearheads" by authors Tom Cotter and Ken Gross (192 pages, $35, Motorbooks).
The book offers a pretty-cool, behind-the-scenes look at some big music celebrities and their automotive obsessions. Sir Mix-a-Lot is shown with his 2008 Lamborghini Murcielago, which he says he bought sight-unseen off eBay, and Hagar ("I Can't Drive 55") with his Mustang GTs and Ferrari 599 GTB. Photography is by Michael Alan Ross.
Sir Mix-a-Lot also talks about his first car, a 1969 Buick Electra 225:
"It was my first car, an 'Exorcist'-vomit green, deuce-and-a-quarter," he says. "It had a big dent in it. 'Hooptie' was what we called a raggedy old car back in the day."
In the foreward, author Gross (a notable automotive journalist and guest curator at LeMay – America's Car Museum in Tacoma) writes:
"When Tom Cotter asked me to help with a book on rock musicians who are car enthusiasts, I thought it was a great idea.
"My uncle ran a jazz nightclub, and I worked there when I was a kid. My son Chris Barron is the lead singer of the triple-platinum award-winning rock group Spin Doctors.
"I've had the privilege of knowing a lot of musicians. And I've met a few rockers who were serious car guys. So I thought it would be easy … It wasn't."
Visit the publisher's website here.