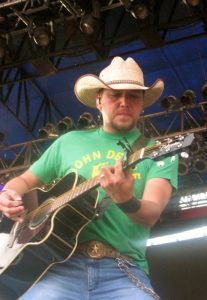 Even if you don't usually listen to country radio, you've probably heard such Jason Aldean hits as "She's Country," "Hicktown," "Why" and the current "Big Green Tractor," a gritty, romantic tune about a John Deere tractor. (the video is like a TV ad).
Aldean — who opens the Puyallup Fair grandstand concert lineup Friday, Sept. 11, at 6:30 p.m. following the Pro Rodeo Tour Playoffs — is so in-demand as a live performer that the Fair added $30, standing-room-only, get-down-in-the-dirt tickets for the concert portion, which begins at 9 p.m. (the rodeo isn't included with these tickets, but gate admission is). Aldean tickets are priced at $30, $40 and $50.
Aldean's star has been rising since his self-titled debut album was released more three years ago. Collectively, his debut album and his second release, "Relentless," have sold more than 2 million copies. His third album, "Wide Open," was released April 7. The single "She's Country" was introduced at the CMA Awards last November.
The grandstand lineup includes shows by Crosby, Stills and Nash; Rodney Atkins, Coheed and Cambria, newsboys, James Taylor, Wynonna (with the Tacoma Symphony), Tommy James and the Shondells, Dave Koz and Brian Culbertson, Heart, LeAnn Rimes and Disney's "High School Musical: Summer Celebration."
Speaking of Rimes, you can read about her relationship drama here. And read my first interview with Rimes and first review in 1996.
The Fair opens Friday, Sept. 11, and continues through Sept. 27. You'll find the complete lineup, with ticket prices, at the Fair Web site. You can also call the 24-hour hotline at (253) 841-5045.
The Puyallup Fair, which began in 1900, is a Northwest tradition and one of the top 10 fairs in the world, in regard to attendance. In addition to live music, the Fair includes the PRCA Rodeo, rides, exhibits, food (including the famous Fisher raspberry-filled scones), flowers and barns filled with farm animals.
Be sure to check out "Al's Brain," billed as a "3-D journey through the human brain" created by Weird Al Yankovic. It's free with Fair admission.