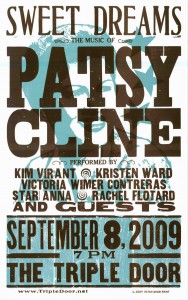 What began last winter as a heartfelt tribute to country icon Patsy Cline has grown into something that could one day play the Paramount Theatre.
"Sweet Dreams," featuring more than a dozen of Cline's best-loved songs, made its debut last March at the Columbia City Theater. The show was such a success — and so much fun for everyone involved — that a second and third show were offered Tuesday night at The Triple Door on what would have been Cline's 77th birthday.
The tribute show had been a longtime dream of Debra Heesch, a special events and booking associate for the Seattle Theatre Group, which operates the Paramount and Moore theaters.
When Heesch gathered together local singer-songwriters Rachel Flotard (of Visqueen), Kim Virant (formerly of Lazy Susan), Star Anna Krogstie, Kristen Ward and Victoria Wimer Contreras for a rehearsal last winter, their performances brought tears to her eyes.
The first of two shows last night at the Triple Door was a bit rushed, and could have benefitted from more music, banter and storytelling, but the five singers turned out stirring, three- and four-song performances that evoked strong memories of the Nashville icon who influenced generations of female artists and who could rightly be considered the queen of today's alt-country.
Each dressed the part in outfits that Cline and other female stars might have worn before her death in 1963. Ward wore a red-and-white polka-dot dress, and Contreras was decked out in a white ruffled outfit that recalled June Carter Cash.
Star Anna and her band, the Laughing Dogs, opened with "Strange," "Two Cigarettes (in an Ashtray)," "Stop the World (and Let Me Off)" and "So Wrong," each performed with an understated elegance.
For the remaining singers, the "house band" featured Jeff Rouse (of Alien Crime Syndicate, Sirens Sister) on bass, Chris Friel (of Virant's band) on drums, Gary Westlake (of Ward's band) on guitar and Ty Bailie (who plays with Department of Energy and Flight to Mars, as well as Virant's band) on keyboards. Guest musicians include Leif Andersen on guitar and Kevin Suggs on pedal steel guitar.
Flotard, who released a new Visqueen album yesterday dedicated to her late father, brought sass as well as poignancy to the show with her renditions of "San Antonio Rose," "You're Stronger Than Me," "Lovesick Blues" and "Why Can't He Be You."
Ward's powerful renditions of "South of the Border (Down Mexico Way)," "I Fall to Pieces," "Your Cheatin' Heart" and "Blue Moon of Kentucky" made the crowd swoon. Virant, wearing a black dress and black pumps, offered stirring versions of "Walkin' After Midnight," "Leavin' On Your Mind," "She's Got You" and a wonderfully romantic "Back in Baby's Arms."
"It's super-fun to do these songs and get all gussied up," Virant said. "This isn't what we normally do."
Contreras, playing autoharp, closed the show with "Got a Lotta Rhythm in My Soul," "Crazy," "Never No More" and finally "Sweet Dreams," a song she first heard on a cross-country family trip when she was 12.
"It changed everything," she said.
It isn't hard to imagine an expanded "Sweet Dreams" hitting the road or filling a theater instead of a nightclub. Add a couple of national artists to the lineup, as well as some of Cline's trademark banter, and you could have quite a production. Then again, "Sweet Dreams" is fine just the way it is.