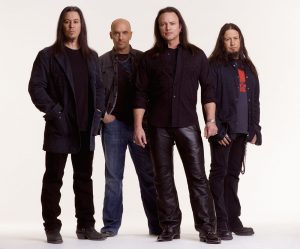 Members of Queensryche, as well as Duff McKagan of Guns N' Roses and Loaded, are offering their support to the "KISW Salutes the Shield" benefit Dec. 19 at the Snoqualmie Casino.
Queensryche performs an acoustic set and Duff McKagan and Loaded play a plugged-in set with guest performers. Doors open at 7 p.m., and music starts at 8 p.m.
Proceeds from the event will benefit the Lakewood Police Independent Guild (LPIG). The evening includes a silent auction of memorabilia, autographed guitars and trips to concerts.
The benefit follows the massacre of four Lakewood, Wash., police officers at a Pierce County coffee shop Nov. 29. A tribute to the four fallen officers took place today at the Tacoma Dome. Read about it here. You can also view a photo gallery from the Seattle Times Web site.
During the memorial, the four caskets of the slain officers were flanked by a motorcycle and NASCAR race car, representing interests shared by some of the officers.
"Since we made mention of this tragic news, the outpouring cry of support to the local police in Western Washington has been overwhelming," KISW station manager Dave Richards said in a statement. "We wanted to do something that shows pure appreciation to these brave men and women."
Tickets, $20, go on sale at 10 a.m. Dec. 11 at Ticketmaster.