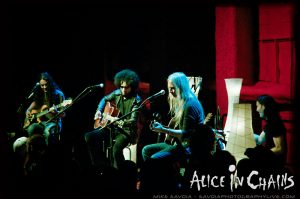 Three of Seattle's top rock bands — Alice in Chains, Pearl Jam and Death Cab for Cutie — are among the nominees for the 52nd Grammy Awards Jan. 31 on CBS-TV.
Alice in Chains is nominated for Best Hard Rock Performance for "Check My Brain," while Pearl Jam received a nod for Best Rock Song for "The Fixer." Death Cab for Cutie is nominated for Best Alternative Music Album for "The Open Door."
In addition, the Dave Matthews Band, whose leader, Matthews, is a Seattle resident, received nominations for Album of the Year and Best Rock Album for "Big Whiskey and the GrooGrux King."
Singer-songwriter Henta Ellis, who lives in West Seattle, was nominated for Best New Age Album for "Laserium for the Soul"; and Seattle composer and producer David Miles Huber was recognized for Best Surround Sound Album for "Colabs." Seattle art director and designer Jordan Butcher was nominated for Best Boxed Or Special Limited Edition Package for "Lost In The Sound Of Separation (Deluxe Edition)."
Beyonce, Taylor Swift and Lada Gaga led the nominees; you can view the complete list here. Read Ann Powers' analysis of the nominees in the L.A. Times.
The nominees were announced last night (Dec. 2) at the Grammy Nominations Live! concert at Club Nokia in Los Angeles. Read a Billboard story about "10 Things You Didn't See on TV."