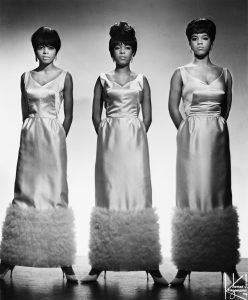 In the mid- '60s, the Supremes rose from Detroit's housing projects to become the queens of Motown Records.
At the height of their fame in 1968, the singing group led by Diana Ross played a command performance for the Queen Mother.
Among their biggest hits were "Baby Love," "Come See About Me," "Stop! In the Name of Love," "I Hear a Symphony," "You Can't Hurry Love" and "Reflections," performed in the cooing, soulful style that became their trademark.
Over time, their costumes became progressively more flamboyant, thanks to big budgets and celebrity designers such as Bob Mackie.
But in the beginning, original Supremes Ross, Mary Wilson and Florence Ballard shopped at Woolworth's.
"We would buy pearls for $5 to $10, and $10 was over-the-top. So we tried to get them for $6.50 each," Mary Wilson recalled with a laugh during a media tour of "Reflections: The Mary Wilson Supreme Legacy Collection," an eye-popping exhibit of Supremes costumes on display through Sept. 6 at the Experience Music Project and Science Fiction Museum and Hall of Fame.
"Pearls were the thing," Wilson continued. "And we used to wear little white gloves. And basically a nice dress.
"We were really simple dressers early on. We didn't wear much makeup. Mascara, some lipstick. We used to call it rouge."
Organized by the Rock and Roll Fame of Fame and Museum, "Reflections" features dozens of costumes in such colors as hot pink, shimmering gold and "creme de menthe" from Wilson's growing collection of vintage Supremes outfits.
Though many of the costumes were lost, some began turning up on eBay. Whenever fans spotted them, they alerted Wilson and donated money to help her secure winning bids.
"Costumes are still floating around out there," Wilson told an entourage of bloggers and reporters.
"There are three sets I bought off eBay. And there are probably about 25 more sets out there someplace."
Stylish in a black outfit, red nails and glossy, jet-black hair, Wilson looked surprisingly youthful for 66. She was cheerful and good-humored, conveying the excitement she feels about preserving the Supremes' ultra-fancy work clothes.
After the group hit the big time, Wilson would shop for outfits at upscale dress shops on Hollywood Boulevard during trips to Los Angeles.
She pointed out a trio of Bob Mackie outfits dubbed "Creme de Menthe" for their mint-green color. One of the dresses doesn't have a belt because Wilson was pregnant at the time.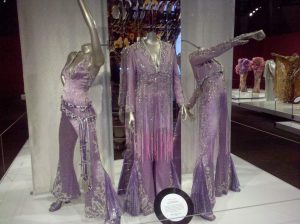 Wilson gestured to one of the earliest Supremes gowns, a white outfit from Saks, circa 1965. "Not rock and roll-ish, but elegant," she said.
She nodded toward a double-breasted outfit that she wore for public-relations events: "It's back in style now."
But the group didn't like everything that was designed for them.
"They would bring us these beautiful designs, and we'd say, 'We'll take them all.' They were all beautiful," Wilson said before pointing to a set of garish pink costumes with a slight grimace.
"We could not stand (these gowns). But on paper they looked fine. The sketches were just beautiful. So we said, 'Yeah yeah yeah.' Then (the designer) brought them to us and once we put them on and started working in them, we felt like cotton candy."
Wilson doesn't really have a favorite outfit.
"It's kind of hard to choose. It's like having children. You do have favorites. . . . But I will still say that the pink beaded one we wore for the Queen Mother was one of my favorites. Because it certainly indicated that we had been successful in a big way.
"Being black girls from the projects and poor and all that stuff and doing command performances for the Queen Mother. I mean, whoever thought we'd be standing up there with the Queen Mother?"
How does she feel about Lady Gaga and some of her, uh, unsavory costumes?
"I'm not conservative at all and yet I have good taste. I'm not bragging. . . . We can't fault the young people for this. We have to look at what we are showing them as adults.
"When we were growing up, we had beautiful role models. We just lost Lena Horne, who was one of the most beautiful women in the world and very, very elegant — and I can say she was probably the one who inspired us.
"I remember (Motown chief) Berry Gordy used to say to me, 'We gotta cover up your boobs.' But that was my best stuff," she said with a laugh. "So we had outfits that went up to the neck."
Wilson talked fondly abut Maxine Powell, the finishing school teacher who worked with Motown's stable of young acts.
"Motown was so good at training us. That's why it's so important to keep the arts and things of that nature in the schools. Children are magnificent. They know what's real. They really, really know. And if you give them the right input, they're gonna use it. It's so great to have arts in the schools."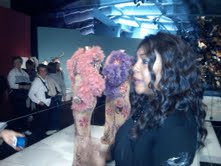 The "Reflections" exhibit almost didn't make it to the Experience Music Project, according to curator Jasen Emmons. It had been touring England, and was about to go back to Wilson when the Rock and Roll Hall of Fame agreed to send the collection to Seattle.
"They said, 'I think we can pull it off. Mary's excited about it.' So it was a huge stroke of luck for us," Emmons said.
EMP decided to display the costumes in the open, with small security wires surrounding each group of costumes.
"We knew we didn't want the exhibit to be behind glass. We've done other shows where it's been glass on all sides. It can just suck the life out of it. We also felt because the gowns were so wonderful from all sides that people needed to see everything in the round. And we also spread things out, as if on a fashion runway."
Despite her sometimes frustrating career at Motown — including a lengthy legal fight with the label over its management of the Supremes — Wilson enjoys her role as the keeper of the Supremes' artifacts.
"I just read her memoir. She could easily be bitter about the ways things shook out at Motown. But she's incredibly gracious," Emmons said.
"And she has a sense of the bigger picture and what she was a part of. It's always touching when you meet a musician like that."
Emmons regards the Supremes as pop music royalty.
"To have these gowns, they're so regal, they're so beautiful. And their music is so timeless. It's as great now as it was then. The Supremes have never really gone out of style.
"I think Berry Gordy, from the beginning, realized that even though they weren't having hits at first, the Supremes were going to be the group that would put his record label on the map. They were known as the 'no hits' Supremes for a while, but when it did hit, they were red-hot."
For more information about the exhibit, click here.
Learn more about Wilson by visiting her Web site.
For my story on the recent "Taking Aim" exhibit at EMP, follow this link.