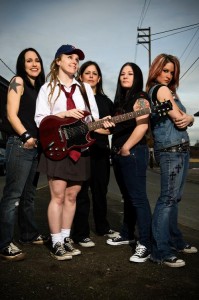 The West Seattle Summer Fest, now in its 28th year, is shaping up to be a great party.
The all-ages, absolutely free outdoor festival is July 9-11 at the West Seattle Junction at the intersection of California Avenue S.W. and S.W. Alaska Street.
Organizers are promising a big-name surprise band, but won't announce it just yet. And Saturday closes with a "Family Street Dance."
The lineup is a Who's Who of local indie-rock, alt-country, Americana and tribute acts, as well as some interesting newcomers.
Among the performers: Hell's Belles (the all-woman AC/DC tribute), singer-songwriters Kim Virant, Kristen Ward, Marc Olsen and others; Jesse Sykes & the Sweet Hereafter, Memphis Radio Kings, Billie Joe and the Dusty 45's and The School Of Rock All Stars (performing "Live Aid Remade," with songs by David Bowie, Queen, Judas Priest, U2 and more).
Virant will also be featured at the "Wine, Women & Song" concert June 25 at Tom Douglas' Palace Ballroom. Read about it here.
Here's the daily breakdown so far:
Friday, July 9:
Hell's Belles
Midnight Idols
The Tom Price Desert Classic
The Fixers
Kim Virant
Trombone Cake
Saturday, July 10:
Jesse Sykes & The Sweet Hereafter
Mark Pickerel & His Praying Hands
Caspar Babypants
Massy Ferguson
Whalebones
Curtains For You
Kristen Ward
Marc Olsen
Memphis Radio Kings
Gunn & The Damage Done
Bend
Rat City Brass
Family Street Dance with:
Cherry Cherry (a 10-piece Neil Diamond tribute band); and
All Mixed Up (a Cars tribute band)
Sunday, July 11:
Billie Joe & The Dusty 45's
Kris Orlowski
Shelby Earl
Capping Day
The School Of Rock All Stars (performing Live Aid Remade, with songs by David Bowie, Queen, Judas Priest, U2 and more)
For additional details, visit the festival Web site here.
And check the Web site for the West Seattle Junction Association here.