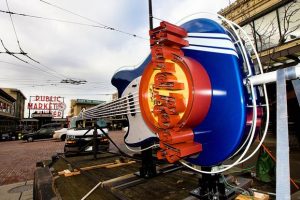 Seattle's new Hard Rock Cafe at 116 Pike St. will sport this replica of a Fender Mustang guitar, which was modeled after the axe Kurt Cobain played in the video for "Smells Like Teen Spirit."
The eye-popping sign was installed Sunday (Jan. 25) at the new location, which could open as early as Feb. 10. For a more detailed story, as well as a gallery of photos of the sign's installation, go to The Big Blog at Seattle.com. And check out photographer Mat Hayward's blog here.
The Hard Rock Cafe recently held a job fair to fill positions at the new store, which will be stocked with all sorts of branded merchandise, including the new Hard Rock Cafe Seattle T-shirt. You'll be seeing these on tourists all over town.
Here's the video of "Smells Like Teen Spirit":